What's for Breakfast? We're still serving our wonderful three-course breakfast daily here at the 1802 House, but we know not all of our guests can join us yet. We've put together a few of our favorite recipes so you can make your staycation special and get you ready to return when you are able. Now, we can't give away all of our secrets, but give our scones or French toast a try and let us know how you get on! And always remember, when you're ready to visit again, we'll put the kettle on.
CRANBERRY (OR OTHER DRIED FRUIT) SCONES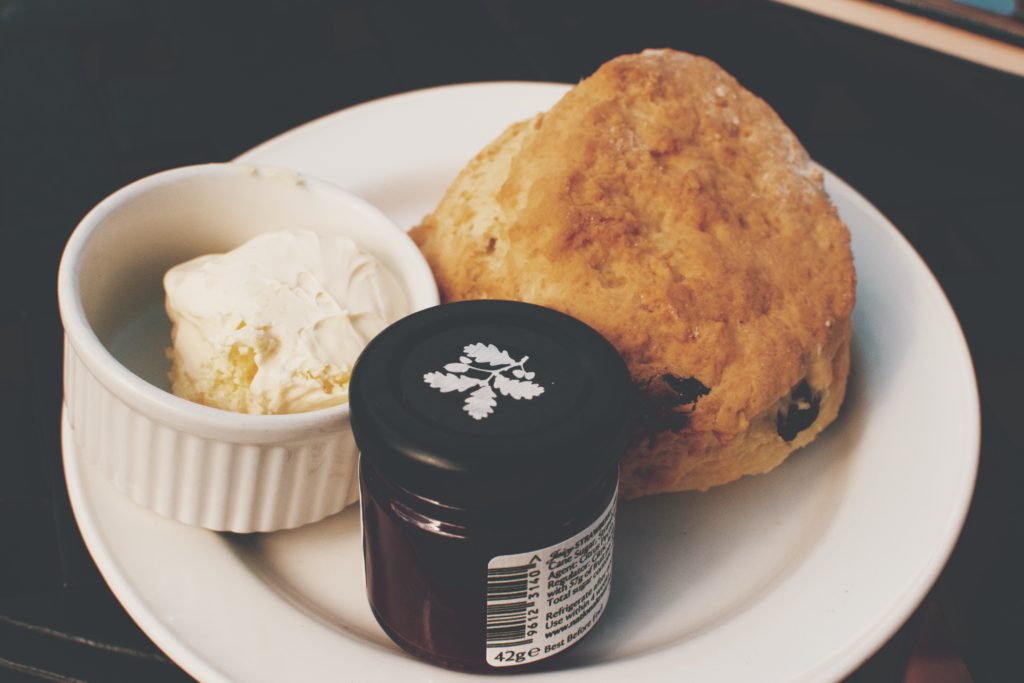 1 cup all-purpose flour
1/4 cup sugar
1-1/2 teaspoons baking powder
1/8 teaspoon salt
1/4 cup cold butter cubed
2 or 3 tablespoons milk
1 egg, beaten
1/4 cup dried cranberries
Sugar in the raw/Turbinado sugar (Optional for decoration)
Preheat oven to 425F.
Sieve flour, sugar, salt and baking powder into a food processor bowl, pulse a couple of times to mix. Add cube butter and pulse until mixture resembles breadcrumbs.
Mix beaten egg with milk. Add milk/egg mixture a little at a time into flour mixture whilst pulsing processor blade. Once mixture begins to clump together stop adding liquid (you should only need about ¾ of the milk mixture). Do not over mix or add too much liquid as the scones may turn out heavy.
Add dried cranberries (you can substitute any other type of dried fruit if desired) pulse processor a couple of times to evenly mix fruit into mixture.
Empty contents onto a floured surface and knead by hand to bring mixture comes together in a single ball. Flatted the ball until it is about a 7" diameter and 1-1/2" thick.
Cut disc into 4 or 6 (depending how big you want your scones!) triangle shaped pieces, place pieces on a parchment lined baking tray in a circle with ½ to 1" gap between pieces. Paint left over egg/milk mix onto top of each piece and sprinkle with the raw sugar if desired. Alternatively, you could also drizzle icing over them after scones are cooked and cooled if desired.
Bake for 10-12 minutes, until browned, add an extra minute or two as needed. Leave on the tray for a couple of minutes then remove to a cooling rack. Scones can be eaten warm or cold. Store in an airtight container for 2 or 3 days, or you can also freeze them. If frozen allow to thaw fully and warm through in a preheated oven set to 350F for 5 mins or so until warm.
Enjoy!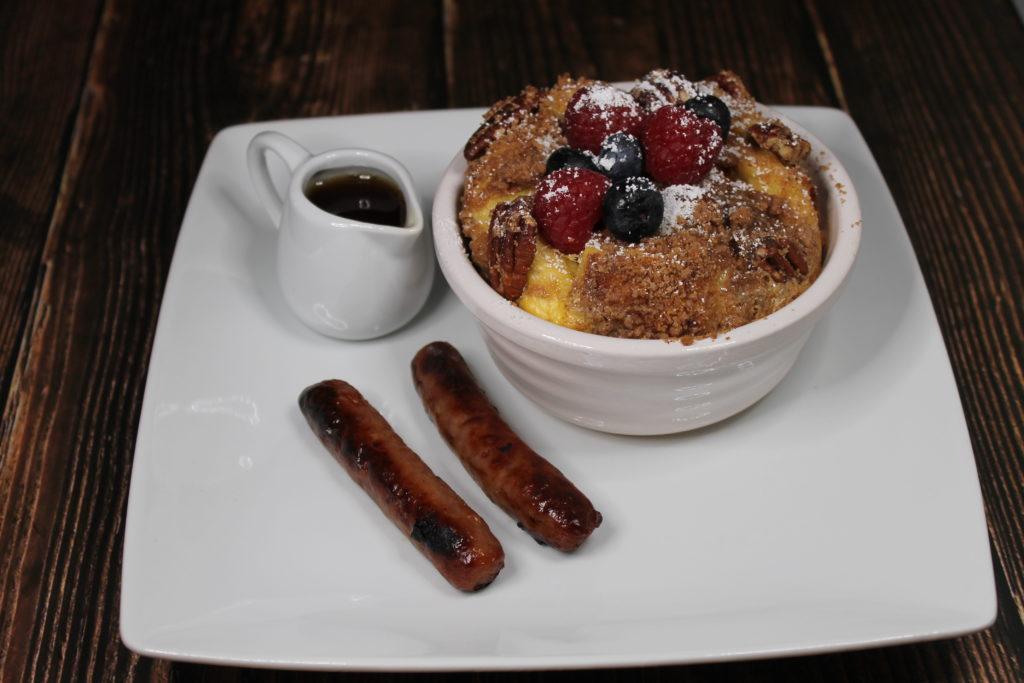 FRENCH TOAST (FOR 4)
12oz cubed challah loaf (can use other bread if required) 1 day old (or lightly toast cubes in the oven if fresh)
3 eggs
1 cup of half and half (or heavy cream/milk mix)
1 teaspoon vanilla extract
Cinnamon streusel topping
⅓ cup brown sugar
⅓ cup plain flour
¼ cup butter (cubed and chilled)
2 teaspoons of cinnamon powder
Pecans
Add brown sugar, flour and cubed butter into a food processor, pulse until it resembles coarse breadcrumbs. Remove to an airtight container.
Mix beaten eggs, half and half and vanilla in a bowl.
Place bread in a large bowl, Pour egg mixture over cubed bread, push bread down with clean hands to ensure all pieces are soaked with egg mix, add more half and half if needed (measurements are not exact!). Cover bread with plastic wrap, weight down with a saucer or bowl and place in the fridge overnight.
In the morning – Preheat the oven to 350F.
Distribute bread mixture into 4 greased (spray with Pam or lightly butter) ramekins (can be made in 1 large ovenproof dish but may need additional cooking time) and share any remaining liquid over top of each ramekin. Add a few pecans to the top of each dish (or you can also add fresh berries or other soft fruits as well/instead of as desired). Sprinkle streusel topping over each dish (how much is up to you – I use a slightly heaped dessert spoonful).
Place ramekins into the hot oven for about 30 mins or until the tops are browned. Serve immediately with warmed maple syrup, fresh fruit and a dusting of powdered sugar as desired.